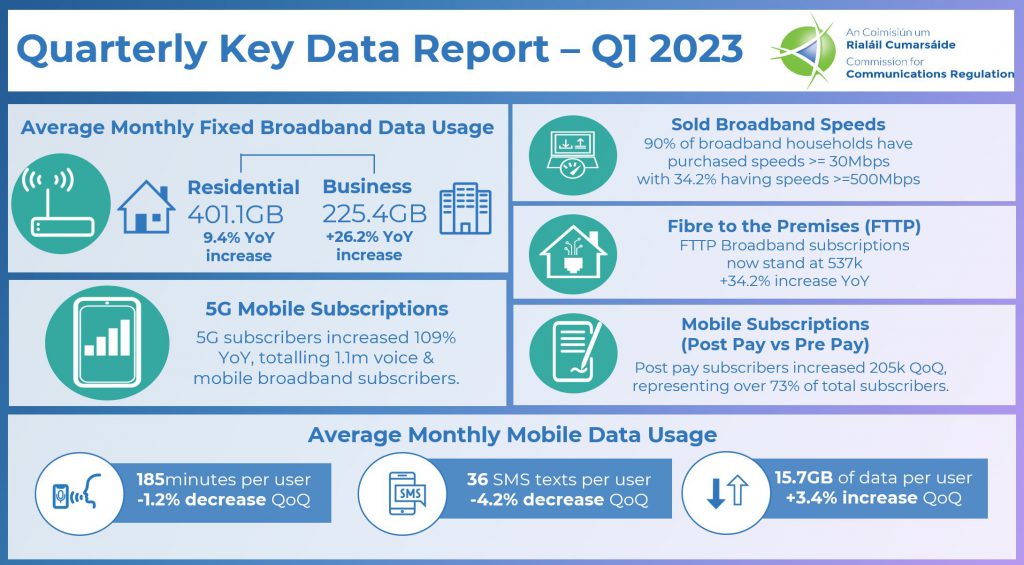 ComReg today released its Quarterly Key Data Report on the Electronic Communications market for the period (1 January to 31 March), Q1 2023.
The main findings include:
Fixed broadband subscriber lines increased to 1.62 million, a 0.4% increase this quarter and an increase of 1.9% compared to Q1 2022. Of these, over 537k were fibre-to-the-premises (FTTP) subscriber lines representing 33.2% of total fixed broadband subscriber lines in Q1 2023, up from 25.2% in Q1 2022. For the first time FTTP is now the most commonly purchased broadband technology in Ireland.
On a monthly basis an average fixed residential broadband subscriber line used 401.1 GB of data, an increase of 9.4% since Q1 2022.
In Q1 2023, approximately 59.1% of broadband subscriber lines had purchased broadband with speeds equal to or greater than 100Mbps, with 34.2% of all fixed broadband subscriber lines with purchased broadband speeds equal to or greater than 500Mbps. Of the 537k FTTP subscriber lines 74.5% have sold speeds equal to or greater than 500 Mbps.
Total voice traffic minutes decreased by 2.2% this quarter, being 6.7% lower than in Q1 2022. Mobile minutes form the majority of voice minutes at 89.5%, with fixed minutes representing the remaining 10.5%.
The full Information Notice and Data Set are available on ComReg.ie.