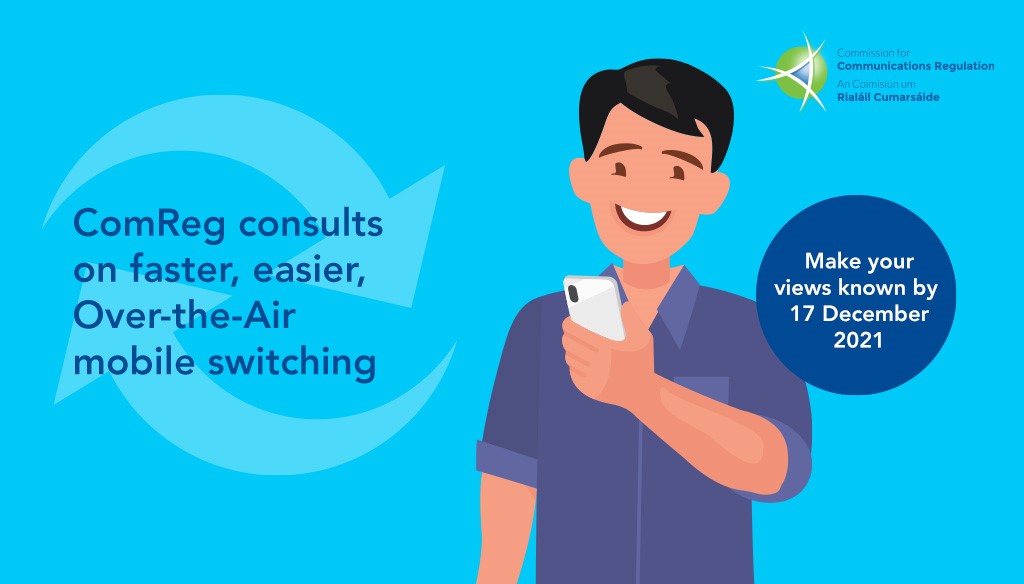 ComReg today published a consultation on its proposed approach to promote Over-the-Air (OTA) provisioning to facilitate faster and easier switching between mobile providers.
OTA is the remote "over-the-air" downloading of a mobile profile to a smartphone or device onto an embedded SIM or eSIM, removing the need to insert a plastic SIM card.  A growing number of mobile devices have eSIMs, which are forecast to replace SIM cards in the coming years.
OTA enables fully digital consumer journeys for sign-up and switching, allowing easier, faster switching for consumers and businesses. OTA can reduce the time required for a consumer to switch to a few minutes, where previously this could take days, especially when a physical SIM card needed to be delivered to the consumer. OTA will allow Internet of things/Machine-to-Machine consumers to switch more easily ( e.g. telemetry or smart meters that are widely dispersed and may not be easily accessible). OTA should therefore increase competition in the mobile sector as consumers and businesses may switch more readily between networks to avail of better prices or services.  OTA also permits the deployment of new and innovative services (e.g. easy switching to a local operator when travelling).
In recognition of these benefits, the new European Directive for regulation of the sector – the European Electronic Communications Code – requires each Member State to promote OTA provisioning to facilitate switching and also gives discretion to regulators to define switching processes that utilise OTA provisioning. The Code also requires that mobile operators maintain traditional switching processes for consumers who prefer the current method of switching.
The consultation incorporates the findings of a study commissioned by ComReg and conducted by independent experts WIK-Consult GmbH on the options for communications regulators to promote OTA.
WIK identifies a number of challenges to adoption of OTA in Ireland and recommends actions for both ComReg and the mobile industry to address. A key challenge is the current limited level of support for eSIM for consumer devices among Irish mobile operators, which has resulted in Ireland lagging international peers in eSIM support. For example, Ireland was among the last countries in Europe or the Americas to have any support for eSIM for smartphones and still has no eSIM support for secondary consumer devices.
To address this, ComReg is minded to adopt a number of actions, including mandating that Irish mobile operators to provide fully digital OTA provisioning journeys for smartphones users within 12 months of publication of its final strategy. ComReg also proposes minimum criteria for what a best-in-class, fully digital OTA customer journey for smartphone users entails, to ensure the full realisation of the benefits of OTA for Irish consumers. The Consultation also covers other matters relevant to switching (e.g., Handset Locking).
ComReg invites feedback on the proposals in this consultation, which will run until 17 December 2021. ComReg's response to consultation, to include ComReg's final strategy and action plan, is planned for completion by Q2 2022.The reports (ComReg Document No. 21/114 and 21/114a) can be found here.