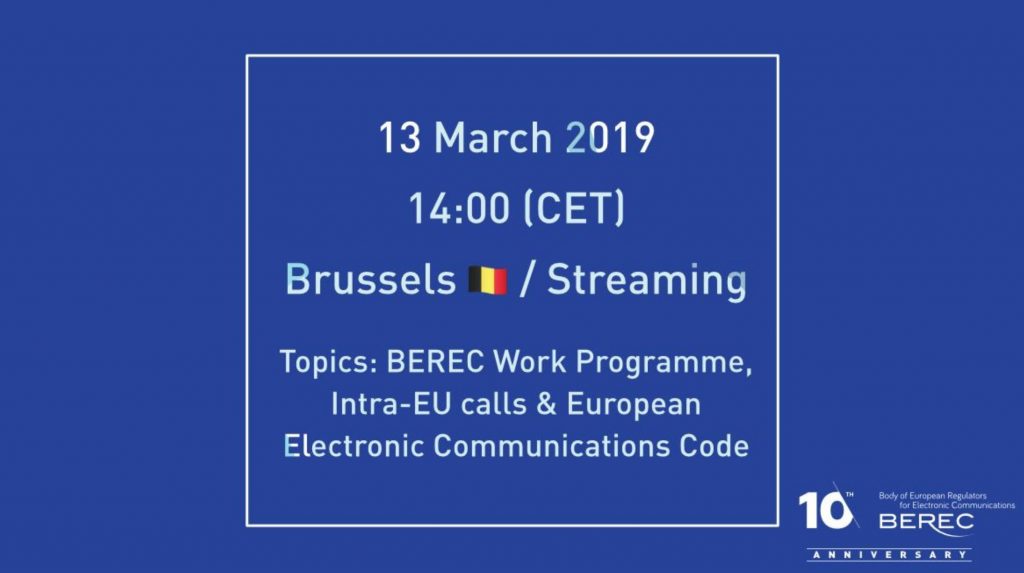 BEREC Chair Jeremy Godfrey will present the outcomes of the 38th Board of Regulators ordinary meetings, which is the first meeting after the adoption of the European Electronic Communications Code. The public debriefing will take place in Brussels on 13 March 2019 at 14:00 (CET). Mr Godfrey invites all interested parties to attend the event in person or online via live stream. The main topics to present during the event are:
BEREC guidelines on Intra-EU communications;
The process for developing BEREC's Work programme.
There will be an opportunity to ask questions, personally at the event or via Twitter.
mportant: Due to security reasons, please register to the event in order to receive your entry pass to the European Commission's premises:
Room 5B, Albert Borschette Congress Center (CCAB), Rue Froissart 36, 1040 Brussels, Belgium, 14:00 (CET)
Deadline to register – 8 March, 2019. 
Watch us live on BEREC's website  | Questions via Twitter #BERECpublic or email: press@berec.europa.eu | Recording of the event on BEREC's YouTube channel afterwards.