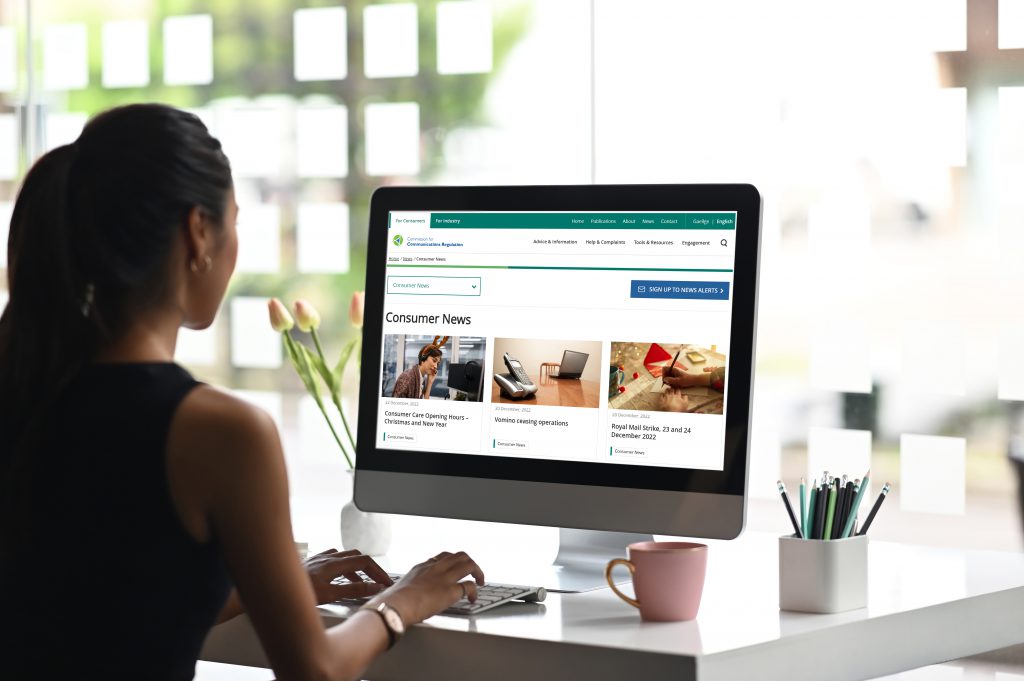 During the last quarter of 2022 (October to December), ComReg's consumer news and publications included the following:
We informed consumers of scam text messages pretending to be from a bank or being followed up by a call. We also informed consumers about tools available on ComReg's website such as our Outdoor Mobile Coverage Map and App. We published the operating hours that our Consumer Care team was available to offer trusted advice and support over Christmas and New Year.
We advised consumers how to complain about their mobile phone, landline or broadband service. We also advised on how to find mobile service deals,  how to check mobile coverage at a location and what to do in the case of an unexpected text message or charge on a phone bill. We advised consumers to visit our Postal section on our website for information on how to make a complaint about postal services. We detailed the last posting dates for Christmas delivery and notified of a number of Royal Mail strikes in the UK and Northern Ireland. We reminded Vomino customers that Vomino ceased operations and advised on steps to take to switch to an alternative service provider immediately.
Our compliance work resulted in Three refunding a total of €26,000 to 7,000 customers who were charged in excess of the actual cost of PRS SMS. ComReg issued an Opinion of Non-Compliance to Eircom in relation to Contract Change Notifications and an Information Notice regarding an Opinion of Non-Compliance with respect to provisions of the Universal Service Regulations.
In terms of research and reports our consumer news highlighted the findings from ComReg's 2022 Mobile Consumer Experience Survey. We published Q3 Consumer Care Statistics with details of issues raised by consumers who contacted ComReg's Consumer Care team from 1 July to 30 September 2022. ComReg commissioned a survey which considered climate change and communications networks resilience and launched a consultation on ComReg's Electronic Communications Sector Strategy. Finally, we published the Universal Service Eir Quality of Service performance data for Q3 2022 and YTD 2022/2023.